Last summer, an esteemed professional, Lisa Jolley, introduced me to a specialized education curriculum in philanthropy, Chartered Advisor in Philanthropy® (CAP®) professional designation from the Richard D. Irwin Graduate School of The American College. Her passion for nonprofit work in our community is inspiring and infectious. She organized a group study of 16 professionals in the nonprofit and financial service fields. It was a pleasure to pursue the CAP® designation with professionals who shared the same goal of aiding individuals in improving their lives and our community. The collaboration and shared experiences made this journey very rewarding.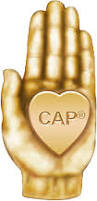 The CAP® symbol is a hand holding a heart. It serves as a reminder that love, compassion, care and concern is at the center of philanthropy. And through our hands we can construct a plan; when both humanity and financial science intersect, individuals leave a lasting impact on succeeding generations and the community.
It was an opportunity to further advance my understanding of both the financial techniques and emotional gratification in well crafted gift plan. Due to Waller Financial's on-going commitment to the community, it was a natural and easy decision to pursue this professional designation. I am pleased to contribute toward advancing the Art and Science of Philanthropy.