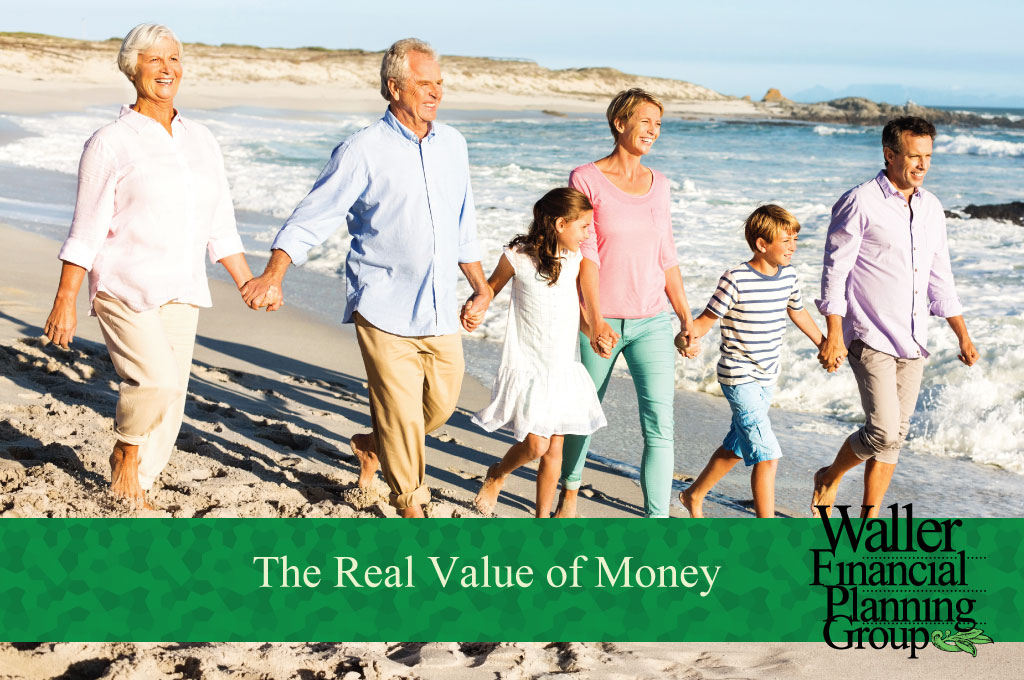 Before I get into the real value of money, I would like to tell the story of how I learned an important lesson. Something I picked up, in part due to my upbringing, was a sound work ethic. Since age 12, I distinctly remember working for several small businesses. I had a number of not-so-wonderful-jobs, but I learned something at every one. Over the years, I learned that small-business owners believed their work was a reflection of themselves. They took great pride and strived to do things the right way. They also worked with the rest of us, which I appreciated. One thing I remember from those early years was being able to let my mind wonder and dream about what I wanted to be when I grew up. I spent days digging holes, shoveling stalls and pushing wheel barrels full of cement, dreaming of one day wearing a suit to work, and using my mind instead of my body.
Early on, I knew I wanted to go into finance, because I liked money. Seems fitting right? Although I truly misunderstood what money is, I recognized an equation that seemed to work, so I tried my best to duplicate it often:
working hard = more money = having stuff = happiness

My mistake was thinking stuff = happiness, but that is a deeper topic for another day. When you're 16, working hard = having money = having a car actually does equal happiness, but I digress.
When I entered college, I ignorantly thought finance would be an easy career because I would simply work with money to make more money – I used to think, "How hard could that be?" I learned finance, and more broadly economics, is not a simple matter. Over the next few years, I continued to learn and work my way through college. Finally, my early years of dreaming about wearing a suit and working with money was going to come true. 16 years ago, I had an interview at a place called Waller Financial Planning Group with a guy named Charlie Kerwood. Sound familiar? At the time, I did not quite appreciate Charlie's genius during my interview, but when he called and offered an internship, I was crystallized. I realized my dreams were becoming goals. Now that I had a job working with money, I needed some new dreams. (It turned out the money I dreamt about began with filing paper in cabinets!)
At the time, I did not realize how lucky I was – I always dreamed about having a "real" job, but I had actually landed in a vocation, a calling. Just like my other jobs, I was working at a small business side-by-side with the founder, Larry Waller. That was an opportunity for which I will always be thankful for. As an intern, I had a good academic understanding of economics and finance, but what Larry and Charlie taught me were three principles innate in financial planning:
Having more money does not equal more happiness
Money can do things for you or to you
The importance of passing values, and not just valuables, to others
As some of you may know, my family and I love being outdoors. My wife, Ruth, and I were both raised in a rural environment that fostered an innate appreciation for nature. Now, Ruth and I are not only passing our love of the outdoors on to our children, but also a love of finance (Ruth works in banking). One of our family's favorite things to do is to go camping, and during the drives, we quiz the children on wilderness survival, statistics and quantitative easing theories. Yes, finance is quite apparent in our family. We usually camp four to six times each year. Don't get me wrong, we are roughing it by many measures, but it's not primitive – we tend to camp at electric based sights…I've come to realize it takes entirely too long to make a cup of coffee if I have to build a campfire first.
This past weekend was our first camping trip this year. It was a fun-filled, relaxing and cherishable time. Although we have many routines while we camp, one of my favorites is sitting at the campfire after everyone goes to sleep. I no longer dream about money in the same way I did when I was 16, but instead I reflect on the work our firm does to help the dreams of clients come true. There is great responsibility in the trust clients give us. I have wondered aloud about what our firm does and why we do it. I appreciate that our work is side-by-side with clients, and our goals align with theirs. I have learned that money does not equal happiness, but if managed correctly, it can create security. It creates peace of mind knowing you have a financial plan to handle whatever events may come your way. This inner peace is where happiness resides. Although you do not need money to be happy, I believe it allows you the ability to find your happiness more easily. I found happiness in the work I get to do: helping clients plan their Lifestyle & Legacy. For that, I will always be grateful.