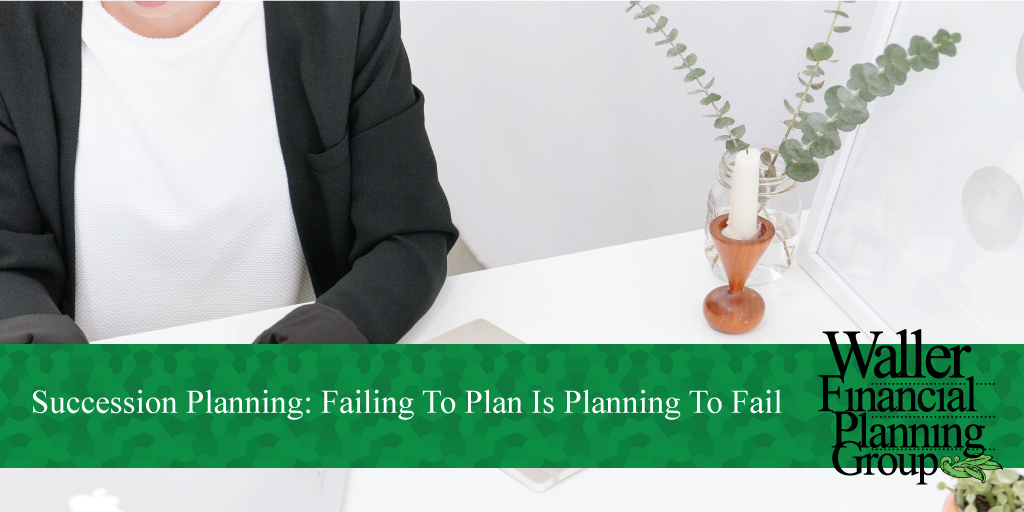 Entrepreneurs spend their entire lives building a successful venture; they take pride in their skill and the ability to serve their clients. An important part of owning a successful business is to ensure that you provide an excellent service or a superior product to the client. But another key aspect, often overlooked, is the need to protect one's family and employees.
Ultimately, once the owner is ready to retire they will sell their business to another person – or family member – that has the same passion. This is something that can and should be planned. But what happens if an unforeseen calamity occurs, e.g., the death – or disability – of an owner or partner? Either of these occurrences will not only impact the client, but also the family of that owner, and employees.
Succession planning creates an organized structure to protect clients, families and employees. Since Waller Financial Planning Group has four partners and two offices, we have to plan for anything to happen, and ultimately be prepared. Consider some of the following provisions that we have in place for our offices in Columbus, Ohio and Naples, Florida:
Corporate documents – Corporate documents are important as they outline the terms of an owner's buy-out provisions. Waller Financial has specific agreements in place that outline the requirements to determine each partner's value of ownership, and terms of repayment to their estate in the event of death, disability or retirement. In addition, the documents outline terms of acts that would force the buy-out and pricing of a partner's shares if they perform an illegal act or cause intentional damage to the company.
Life insurance – Life insurance is important to a business owner for several reasons. Each of the partners at Waller Financial has key person life insurance coverage sufficient to:
Purchase their share of the company from their estate, thus creating liquid resources for their family
Repay any corporate debt attributed to that partner
Create resources for the company to pay for any other needs the company may have due to the absence of a partner
Disability insurance – Disability insurance is an important coverage, as well. This protection may help defray operational costs associated with the loss of a partner or even help to buy-out a partner's share in the event they are unable to return to work.
Alternative responsibility plan – It is important to be aware of current partner responsibilities in order to have a back-up in the event of an unexpected change. As a point of illustration, Waller Financial has three partners located at the Columbus office, and one partner at the Naples office. In the event the Naples partner is unable to perform his duties, an alternative partner has been selected to immediately cover that role. Keys to the office and filing cabinets as well as all passwords are available to the successor partner in order to ensure a smooth continuation of the Naples location.
Employee protection – All of the aforementioned areas (corporate documents, life insurance coverage, disability insurance coverage, and alternative responsibility plans) protect our employees. Waller Financial provides its employees with a salary, health, life and disability coverage, as well as a 401(k) plan with a generous match. Without sufficient strategies in place, there is the potential for job loss or reduction in employee benefits.
As you can see, business succession is an important responsibility of a business owner. If you would like to discuss your business succession needs, please contact us.