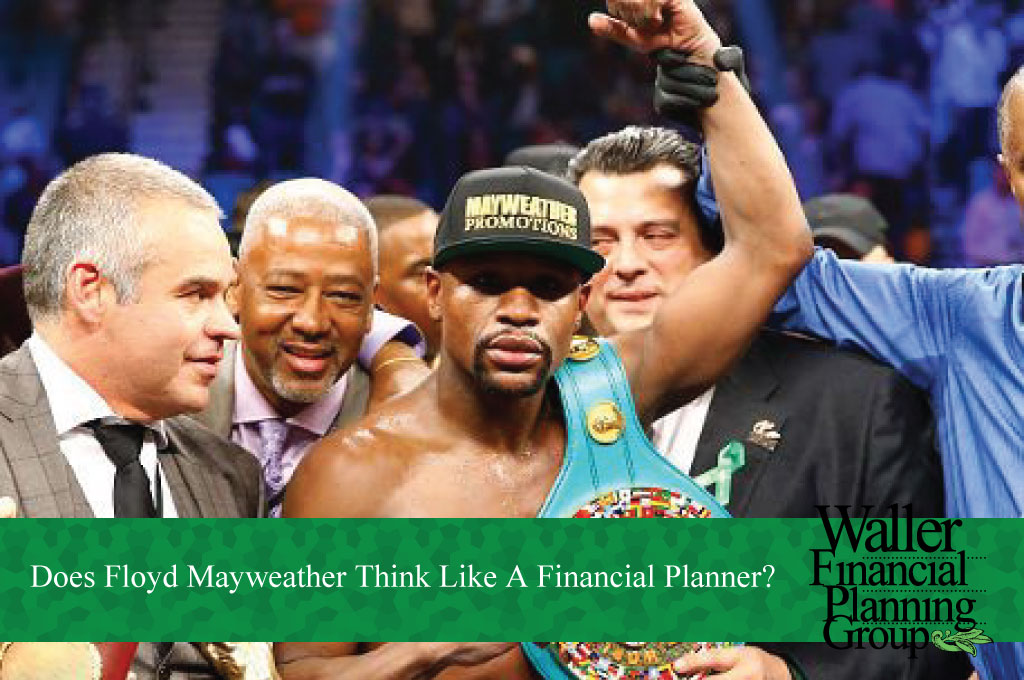 Shortly after the highly anticipated fight between Floyd Mayweather and Manny Pacquiao, many boxing analysts and novice fans alike were quick to ridicule Mayweather's "boring" and "uninteresting" defense of his title.
While I've never earned anywhere near $200 million in one night, on some level I can relate to Mayweather. When I meet with prospective clients for the first time, they are too often focused on maximizing the return on their investments. While each of us here at Waller Financial strives to maximize client returns we recognize, first and foremost, that good financial planning often means playing highly disciplined defense. After all, it's a strategy that has served our clients very well for several decades, and one that has clearly served Mayweather very well over his boxing career.
For Waller Financial, playing good defense means focusing on two things: helping clients avoid small mistakes today that could grow into big financial problems in the future, and protecting their accumulated wealth from unanticipated life events that can quickly destroy that wealth.
Here are 5 pitfalls we encourage everyone to avoid:
Credit Card Debt: Credit cards today are offering amazing incentives in the form of travel points, upfront discounts and, my personal favorite, cash back rewards. Interest rates on unpaid balances can range from 10% to 30%, or more depending on the company. No matter how great of a clearance sale you find, if you're paying an additional 30% interest to the credit card company you are no longer getting a good deal. I encourage everyone to avoid charging more on their credit cards than they are able to pay off when it comes due.
Payday Loans: If you think a 30% interest rate is high, let me introduce you to a payday loan. Typically, these small loans carry heavy fees, which seem small on a relative basis until the cost is annualized. For example, a $100 loan for ten days can cost $15 when you pay it back. The annual percentage rate, in this case, is in the triple digits! Keep in mind, approximately 75% of all payday loans that people take are either rolled over from a previous loan or taken out again within two weeks. This is clear evidence that things can spiral out of control very quickly. Avoid the need for payday loans by maintaining an emergency fund ranging from three to six times your average monthly expenses. Consider maintaining more if you are in a volatile or cyclical employment situation.
Death & Disability Insurance: For those who have a family they provide for, inadequate protection against premature death or disability could leave your survivors or caregivers in very difficult situations. While Social Security may provide some protection, it is often not enough. There are many products available at various price points to shift this risk to an insurance company. Consider a private disability insurance policy for up to 60% of your income, if you are not offered coverage through your employer. Maintain enough life insurance to cover any debts, salary replacement, education savings, or other financial goals that would not be met if you were no longer around. Term insurance may be a less expensive option to more permanent forms of protection.
Property & Casualty Insurance: People looking for discounts are often drawn to the low premiums and brilliant marketing techniques of the major P&C insurers. While these policies may be adequate for some people, they are often not sufficient for others. P&C insurance is a very detail-specific business that requires the assistance of a dedicated professional. There may be gaps or loopholes in current coverage plans that individuals are completely unaware of that could result in big out-of-pocket costs in the event of a catastrophe. Work with your insurance agent or financial planner to really dig into the details of your coverage. Don't let the length of your relationship or loyalty discounts stand in the way of making a change…the insurance companies certainly won't if you file too many claims!
Cash-flow and Investment Management: Waller Financial adheres to a cash-flow driven investment model because we believe it is important to protect immediate cash flow needs from the risk of the investment markets. We encourage all clients to develop and maintain a realistic budget, as well as consider any major upcoming expenses. We also advise clients to invest in a diversified portfolio, which can help absorb the impact of cyclical markets over the long term. Proper attention to these areas can help an individual avoid the need to sell underperforming investments during down markets.
Playing defense is not particularly exciting, nor will it likely get you all the way to retirement. However, the benefit of a strong defensive strategy is the ability to play good offense when the opportunities arise. Floyd Mayweather understands this as well as anyone I've seen. Hopefully he has a great financial planner in his corner as well, if not, Waller Financial is here to help.