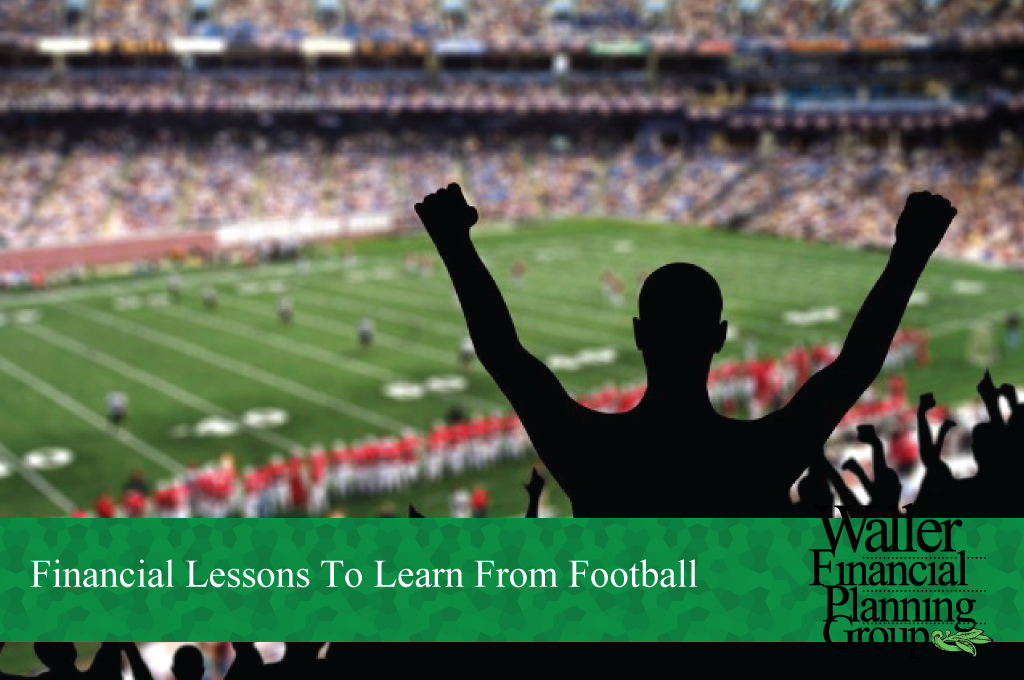 It is officially fall – the September equinox marks the first day of autumn in the Northern Hemisphere. While this also signifies colder weather in our future – I will take solace in feeling less guilty about spending a Saturday afternoon watching football, but it can also serve as a reminder to important financial lessons.
Game Plan – Generally a team has a week to game plan for their opponent. Fortunately, we don't have to work under the same constricting timeline. Victorious teams rarely overcome opponents solely on happenstance – they game plan and execute.
Luckily, you don't need to have your financial game plan completed and executed in a week. It takes time and patience. Start by making a list of your goals you wish to achieve in the next 12 months, 5 years and beyond. The next step is to prioritize every goal. How will you achieve these goals? What are the strategies you will implement? Who will hold you accountable for implementation and execution?
Make 1st Down & 2nd Down Count – The football announcers on TV provide detailed game statistics from start to finish. One unavoidable statistic is the 3rd Down Conversion Percentage. A key figure the announcers illustrate is how successful the offense is maintaining possession of the football, thus, controlling the tempo of the game. While third down is a critical play, it's often overemphasized more than 1st and 2nd down. 3rd Down Conversion Percentage encompasses all three downs, not just the 3rd down.
Therefore, put yourself in a position to be successful on 3rd down, or rather critical points in life. There will be pivotal moments regarding our financial affairs during our lives, however, the collective decisions we make leading up to the moment have a significant amount of influence on the outcome.
Stay Focused – During game week, the head coach commonly addresses the media to discuss the upcoming opponent. The coach doesn't want to tip his hand to the game plan, but he has to fulfill his obligation; however, little insight is gleaned during these press conferences – sandwiched in between questions from reporters are sports clichés. While sports fans may find the coach's responses boring, he is successful by avoiding unnecessary distractions.
There are numerous distractors in our lives, which jeopardize us from achieving our financial goals. Successfully focusing your thoughts and energy toward things you can influence greatly increases the odds of achieving your desired outcome.
Fumbles Happen
Setbacks occur – sometimes they are beyond our control, and other times they are mistakes; nevertheless, setbacks are bound to occur. Financial planning is a fluid process designed to adjust with the variables in your life. Don't allow fumbles – or mistakes – go unaddressed, update your financial plan to set a new course of action. How will you respond to fumbles?
Don't Rely on a Hail Mary
"Three wide receivers out to the right…Flutie flushed…throws it down…CAUGHT BY BOSTON COLLEGE, I DON'T BELIEVE IT! It's a touchdown! The Eagles win it! (Unbelievable!) I don't believe it! Phelan is at the bottom of that pile! Here comes the Boston College team! He threw it into the endzone! There was no time left on the clock! The ball went between two defensive backs of Miami! Jack Bicknell is the only person over there on the sidelines, he couldn't get the headset off fast enough!"
—CBS TV announcer Brent Musburger calling the play.
There is a reason we remember fantastic finishes – such as the game between Boston College Eagles and University of Miami Hurricanes on November 23, 1984 – they rarely happen. Seldom does waiting to the last second results in triumph in your financial plan. Your financial security is far too important to leave it up to a stroke of good fortune, I would much rather take a knee on the last play of the game.